Experience Branding
A place of new experience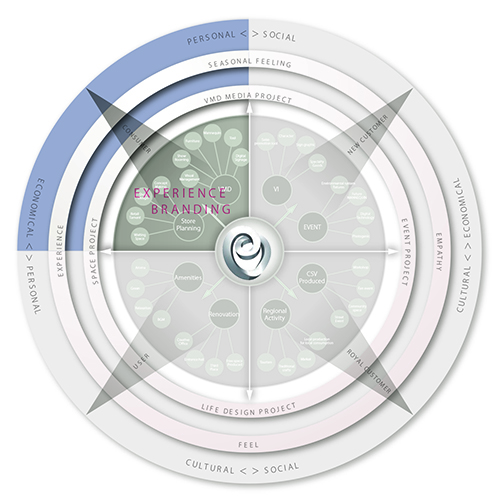 Valuable experiences pleasantly stay in the mind forever. These experiences are also important motivations for consumers to purchase.
As a space branding company, we enhance our customers' brand value by adding new experiential value to the sales space for clothing, food, shelter, and recreation.
We will promote Branding Activities through Concept-Making skills such as Retail Entertainment and VMD Design skills by adding Planning Elements of Experience Value to the physical space of Clothing, Food, Shelter and Recreation.
store planning
Concept Making / Shop Design / Retail Entertainment / Waiting Space
VMD PLANNING
Digital Signage / Tools / Mannequins / Furniture / Showrooming / Visual Management

Information Branding
A new place of informations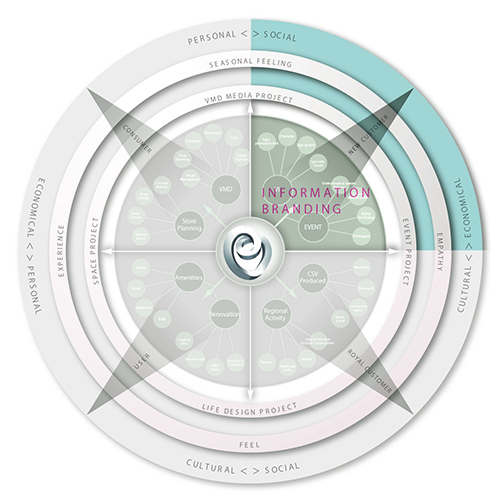 By conveying your thoughts and feelings to your customers in the most appropriate way, the information is transformed from a mere transmission to the communication with the customer.
As a space branding company, we enhance our clients' brand value by providing optimal information value to their new customers in spaces such as Pop-Ups, Exhibitions and Showrooms. 
We promote Branding Activities through VI (Visual Identity) techniques and Event Planning in the spaces such as Incubation, POPUPS, Exhibitions,  Showrooms, and Corporate Museums.
VI
Promotional Tools / Characters / Signs & Graphics / Specialty Goods
Events
Environmental system fixtures / Future mannequins / Digital technology / Photogenic

Community Branding
A place to meet new people
When people interact with each other, new things and experiences are born and new values are created.
As a space branding company, we enhance the brand value of our clients and communities by helping to create loyal customers by gathering people to the place such as communication-forming cultural events.
We promote Branding Activities by producing communication-forming cultural events and planning promotions.  We also support companies that actively participate in activities that balance the social value and the corporate value (CSV).
CSV PRODUCE
Workshop / Fun Event / Community Space / Street Event
revitalization of a region
Local production for local consumption / Markets (marche, etc.) / Traditional crafts / Sightseeing

Creative Life Branding
New place for rich life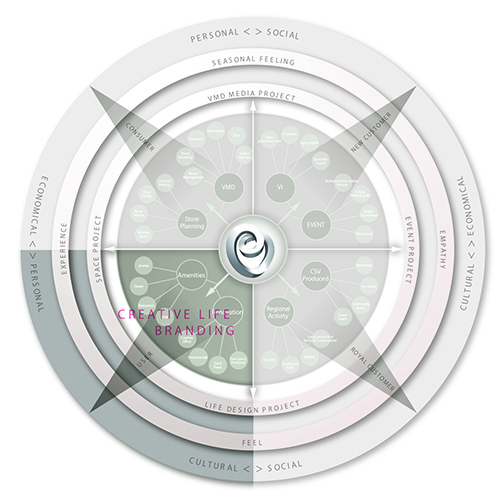 Convenience and efficiency are not the only elements required for office, hotel, and facility spaces. A new lifestyle is required that allows users to spend time creatively and comfortably, enriching and fulfilling their minds.
As a space branding company, we work with owners of offices, hotels, and other facilities to enhance the brand value of their facilities by creating spaces where visitors can spend a creative time. 
We promote branding activities for offices, residences, hotels, cultural facilities, etc. through renovation techniques and amenity planning.
amenity
AROMA / GREEN / RELAXATION / BGM
renovation
Creative Office / Entrance Hall / Third Place / Vacant Space Production